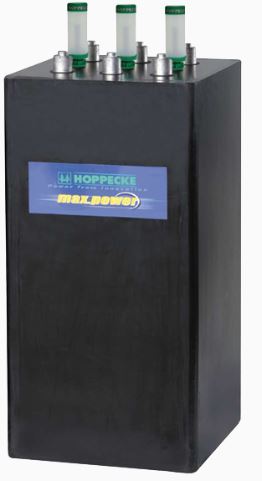 The HOPPECKE max.power battery is a flooded, stationary, lead-acid battery with liquid electrolyte. It achieves a capacity of up to 12,000 Ah even without elaborate parallel strings. The max.power is differentiated by its long service life due to our proven gauntleted positive plate and reliable power coverage over a very long period.
The new design to DIN 40736 dimensions ensures highest level of compatibility when replacing existing equipment and for integration with the extension of existing battery systems. Combination with the HOPPECKE grid | aquagen recombination system makes its completely maintenance-free.
BENEFITS:
Very high expected service life – due to optimized low-antimony selenium alloy
Excellent cycle stability – due to tubular plate design
Extremely extended water refill intervals up to maintenance-free – optional use of AquaGen® recombination system minimizes emission of gas and aerosols
MAIN PERFOMANCE:
Nominal voltage: 2 Vdc
Nominal capacity: 3780 Ah and 12960 Ah
Technology: FLOODED
Contact: Top Terminal
Life time: 20 years
APPLICATIONS:
Mobile phone stations
BTS-stations
Off-grid/on-grid solutions.