High frequency modular charger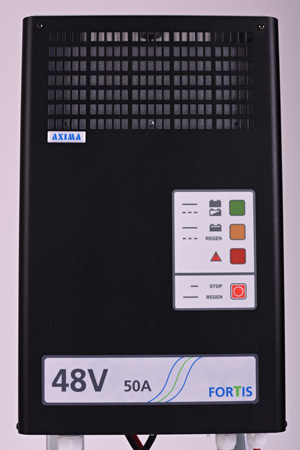 FORTIS chargers are designed for industrial use, mainly for charging of traction deep-cycle batteries (Laed-acid, GEL, LiFePo4,...) for electric vehicles. Chargers are intended for charging of batteries with Unom 12V-96V and current from 25-225A. (Chargers of other power on request). Chargers are modular construction, consist of control unit and power module(s) (input 1ph 230VDC or 3ph 400VDC). Important operating data are displayed on display during the charging. At FORTIS chargers could be set charging curve and battery capacity.
Operational stages are signaled by three big LED lights, status of charging is visible from long distance. Output current is adjustable to battery capacity, operating stages are signali-zed by free LED lights. FORTIS chargers comply with european standards of using PFC at electronical devices.
MAIN FEATURES:
• VERY HIGH RELIABILITY
• SHORT CIRCUIT PROOF OUTPUT
• SAVES EXPENSES FOR OPERATING
• MODULAR SYSTEM
• PRESET CHARGING CURVES
PROPERITIES
• Eficiency up to 94%, power factor cos φ ~1
• Active PFC and softstart
• Verification of connected battery
• Galvanic separated mains – output
• Regeneration charging - desulphation and equalization
• Short circuit and reverse of polarity proof output
• Optimised HF charging technology accelerates charging, prolongs working life of batteries and saves energybaterie
• Traction battery charger FORTIS meets hard requirements of three shift
• operation in industrial areas
ELECTRICAL CHARACTERISTIC:
- Efficiency: up to 94 %
- Output voltage stability: ±1 %
- Cooling: forced ventilation
- Degree of protection: IP 20
- Operating temperature: -10 °C to +40 °C
- Protection class: I
- Standards: EN 61000-6-2, EN 61000-6-4, EN 60950-1