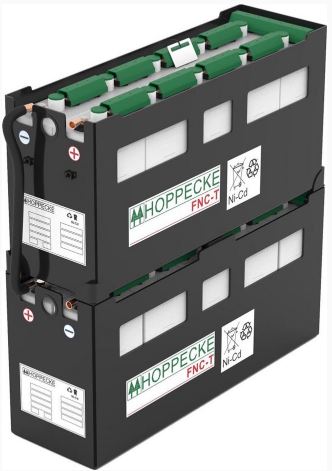 The special properties of this alkaline battery mean that battery changing is not required. The vehicle and battery can be used 24 hours a day by taking advantages of daily work breaks for opportunity charging. At the same time, virtually 100% availability of your vehicles enables you to optimise your vehicle fleet size.
The extremely high mechanical stability of trak | fnc batteries provides long-term resistance to vibrations and rough handling. The electrode material has withstood shock tests of up to 30g* (*g = acceleration due to gravity at the Earth's surface of 9.80 m/s²). The robust design of the cell ensures absolutely reliable energy storage, even under the most severe operating conditions. The reduced sensitivity of the FNC battery to external factors (e.g. low temperatures) or improper handling almost entirely rules out the risk of a sudden battery failure.
A battery control unit that was designed by HOPPECKE especially for this system provides the driver with information about the availability of their vehicle, the battery capacity and the charging current at all times. A charging schedule is calculated based on the usage profile of the vehicle, so that the normal daily sequence of operations is not interrupted by unforeseen opportunity charging. In addition, the battery monitoring unit has the additional task of countering any improper use by drawing the driver's attention to the need for charging by stopping lifting movement. Other functions such as recording operating hours or energy balancing are also integrated and round off the system.
ADVANTAGES:
24/7 operation without spare batteries thanks to opportunity charging technology and high-current capability
Highest vehicle availability thanks to shorter charging times
Highest savings in operating cost
Highest energy density due to lower battery weights, volumes and sizes
Use under difficult conditions, e.g. at loading ramps, thanks to mechanical and electrochemical stability
High performance at low and high temperatures, e.g. in cold stores and smelting plants
No sudden system failure
No central charging station necessary
Highest operational reliability through constant monitoring of battery capacity with the battery control unit
APPLICATIONS:
Industrial trucks
Special-purpose vehicles
Others