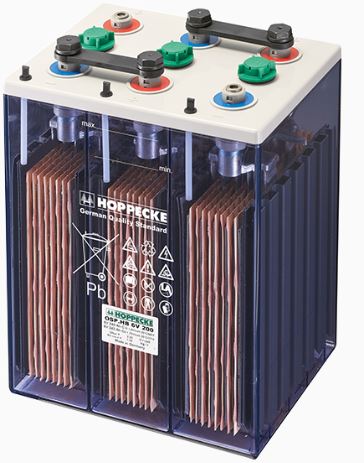 The HOPPECKE grid | power V M battery is a vented, stationary, lead-acid battery with liquid electrolyte. It has outstanding discharge characteristics due to its configuration as a bloc battery with positive flat plates. It is designed for high current applications and to last for up to 20 years (Design Life).
The configuration of clearly visible containers with external cell connectors is specifically designed to meet requirements in the energy supply sector. The plastic-sheathed terminal with measurement openings and the outer cell connectors facilitate the measurement of resistances and individual voltages.
Combination with the HOPPECKE grid | aquagen recombination system lengthens the interval between water refills almost to the point where no maintenance is required, thus significantly reducing operating costs.
BENEFITS:
Very good high-current capability – due to innovative electrode structure
Very high expected service life – due to optimized low-antimony selenium alloy
HOPPECKE SST terminal design – compatible plastic moulded terminals for testing according to the
IEEE 450 External insulated inter-cell connector – individual testing of the single cell voltages in the block
Extremely extended water refill intervals up to maintenancefree – optional use of AquaGen® recombination system minimizes emission of gas and aerosols
MAIN PERFOMANCE:
Nominal voltage: 6 Vdc
Nominal capacity: 50 Ah to 200 Ah
Technology: FLOODED
Contact: Top Terminal
Life time: 20 years
APPLICATIONS:
Switchgear,
Telecommunication,
Power Supply Systems,
Railway,