Standard basic modules specifically for applications with high system voltages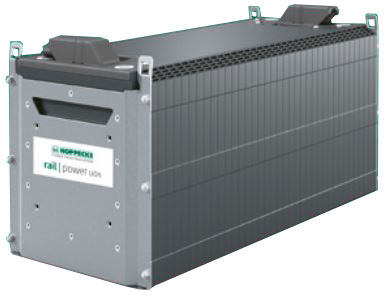 HOPPECKE lithium-ion battery systems have a modular structure. The basic units are designed in such a way that they can be used installed as a group consisting of several modules to form a larger battery system. The lithium-ion modules are available in High Energy (with high energy content) or High Power (with high power density) versions.
HOPPECKE lithium-ion basic modules have to pass extremely strict quality controls. Moreover, HOPPECKE lithium-ion modules are also UN38.3 ("Transport of lithium batteries") and CE certified. Working closely with various certification bodies and test laboratories allows us to achieve application-specific system certifications for you. High IP protection classes can be achieved through the design and construction of suitable outer packaging (tubs, containers).
ADVANTAGES:
Highly flexible due to modular system structure
Capable of modular interconnection to battery system up to MWh
Highest possible level of operational safety thanks to integrated HOPPECKE battery management system
Long cycle life – up to 3,500 cycles at 80% depth of discharge
Voltage-proof up to 1,000 V
Quick chargeable, with a high load capacity
Active and passive heating or cooling for optimal perfomance
Compact dimensions and lightweight structure due to high energy and power density
Excellent failure safety through intelligent parallel connection of modules
MAIN PERFOMANCE:
Nominal voltage: 133 Vdc
Capacity: 42 Ah
Weight: 55 kg
Dimension: 570x250x300 mm