<![endif]-->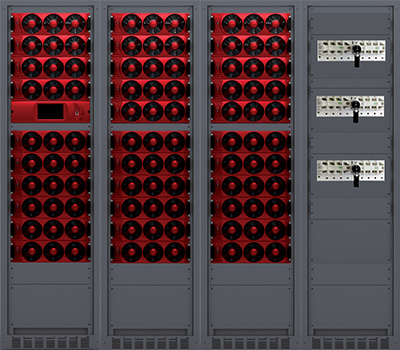 AGIL is a compact and scalable modular UPS providing a pure sine wave AC supply.
The "Twin Sine Innovation" (TSI) technology ensures independent "hot pluggable and hot swap" modules that include virtually all functions of a conventional UPS (AC/DC, DC/AC, battery charger, Static Switch), eliminating all potential single points of failure.
Up to 32 modules can be installed in parallel to bring the full output power potential to 640 kVA.
APPLICATIONS
• All traditional data centers applications that require flexibility in their power needs.
• But also a large variety of applications where a multidirectional energy converter is required.
MAIN FEATURES
• Selectivity
• Versatile charging
• Battery sustainability
• Harshest AC input conditions
• High efficiency, certified by SGS
The Agil Modular UPS will cover your power needs from 20kVA to 640kVA with 3 different cabinet-based solutions:
• Agil 60 will be the ideal solution if you never expect your load to exceed 60kVA:
With an Output Power between 20kW and 60kW, and an autonomy of minimum 10 minutes, the 800mm x 600mm cabinet of the Agil 60 is one of the most compact modular UPS on the market.
Included in Cabinet:
• Max 3 modules Agil 20
• Catena user interface
• Manual By Pass
• Batteries
• Agil 160, allowing up to 160kVA in just one cabinet!
The Agil 160 will cover your output power needs bewteen 20kW and 160kW in just one 600m x 800mm cabinet.
Included in Cabinet :
• Max 8 modules Agil 20
• Manual By Pass
• Catena user interface
• Agil 640 is the ultimate solution for loads up to 640kVA
Included in System :
• Basic cabinet with max 10 modules Agil 20 and Catena user interface
• Max 2 additional cabinets with up to 11 modules per cabinet
• By-pass cabinet